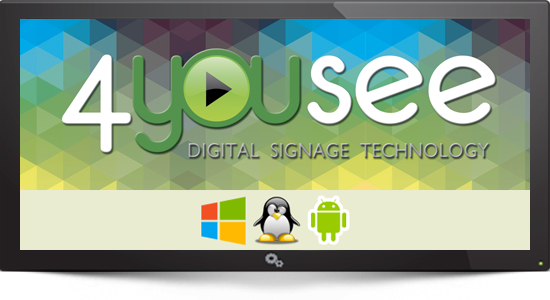 4YouSee Digital Signage Software
With media resources as well as the needs of the public in mind, F6 Sistemas developed 4YouSee: a software capable of bringing together profitability and speed in content management for electronic displays.
4YouSee is a content management program for digital signage in retail or corporate settings. You are able to manage the content you wish to display via an internet connection, with the capability to include scheduled advertisements, institutional promotions, location-based information, event information, and many other possibilities.
Versatility
4YouSee is an alternative media vehicle; Ideal for high traffic points of sale. It is also useful as an institutional and promotional communication tool, in addition to being an excellent corporate communication resource, ideal for reinforcing the work of Human Resources and Internal Corporate Communication teams.
How Does 4YouSee Work?
4YouSee system is extremely easy to operate, meeting usability needs and including two platforms:
Management via 4YouSee Manager: A management platform with "drag and drop" functionality, allowing you to manage content online, quickly and easily.
Publish with 4YouSee Player: Content display Software to manage each player, updated online.
Although F6 Sistemas offers technical training for software operation and a support team, the software works intuitively; each player is given a playlist where you can add remove animations, text, images, etc. In other parts of the software, users can add their own parameters for managing their time slots according to their interests. This means that with 4YouSee, you can divide your content between display locations, schedules or target audiences–all via an internet connection.
Type of Interactive Content
Videos and animations
Static images and slideshows
News (capable of integration with RSS)
Stock quotes and market updates
Weather Forecast
Advantages
Control of resources via internet
Easy management on any platform
Real time updates of all playlists
Separation of content by audience, time period or location
Rapid transmission of data
Compatible with all operational systems
Accepts any video and image formats
Unlimited players
Broadcasting and revenue reports
Differentials
Mobile support and Georeferencing: panels can be installed in small LCD monitors in locations such as taxis, buses, or school bus fleets. With GPS control, you can choose what your audience will see depending on the neighbourhood, avenue or other location where the vehicle is travelling through. 4YouSee allows customized media in the audience's language with specially targeted messages for specific places and times, bringing the consumer closer to the advertiser and even allowing the possibility for immediate interaction with the audience, via touch-screen monitors.