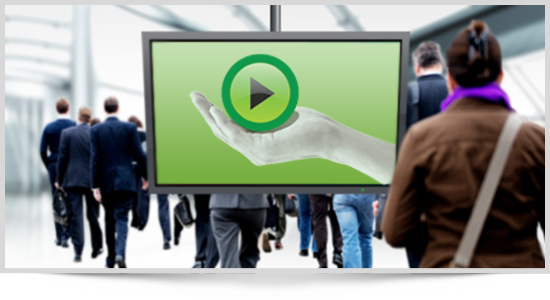 What is Digital Signage?
According to the standard terminology of the Digital Signage group POPAI (Point of Purchase Advertising International), digital signage is a network of centrally managed digital displays, programmable to display segmented information, entertainment, merchandising and advertisements.
Digital Signage can therefore be taken to include any content programmed to be shown on one or more panels of a network, including videos and images, in addition to news captured dynamically from feeds (RSS) and shown in a standardized screen model (template).
There are basically 3 possible types of digital signage networks. This classification considers the general interests of the target audience that visualize the display, the average time in front of the panel, and the objective of the manager of the panel network.
Waiting point. Corporate TV in businesses, hospitals, schools, and banks
This consists of monitors installed in modern facilities whose objective is to display relevant information for professionals who work in these areas, as well as visitors. Clients or potential clients waiting in the facility are affected by the information about products and business services. This system also displays weather reports, stock quotes, a news ticker, and other content relevant to the business conducted in the facility, such as pictures of rooms (comercial buildings), class schedules (universities and schools), events and meetings schedules (convention centers), etc.
Media at Points of Sale
The goal of displays installed at points of sale is to show cross-product advertising (for example, an ad for cheese near a wine display offered as an accompaniment); to improve and personalize consumers' experiences with products or services; & provide more information or encourage the consumer to continue to use the product after purchase (by using a coupon or interacting on social networks).
In this type of network, the panels are installed strategically to guarantee that the consumer will see them. Another interesting characteristic of this type of implementation is the ease with which the return on investment (ROI) can be measured, since it's possible to compare, among other metrics, the volume of sales of a certain product before and after it is promoted using a digital signage panel at the point of sale.
Locations with Free-Moving People
The usage of "out-of-home" displays has become increasingly common in trains and bus stations, taxis, and airports. In general, people who pass through these places on a daily basis or who use public transportation need dynamic, current, clear, and fast information. Above all, this information must be contextualized with the location in which it is displayed.
This system is also being used increasingly by brands to advertise their products. Since digital signage is dynamic, businesses such as restaurants and bars can conduct ad campaigns on screens near their store locations, and increase the volume of the messages during lunch or dinner time.
What is the Status of Digital Signage in Brazil?
"In July of 2010, there were already more than 50,000 panels professionally installed and in operation, with figures projected to top 80,000 of these units in 2014. According to Ipsos Marplan, which included out-of-home digital media in its database beginning in 2009, 67% of the population of Greater Sao Paulo confirms having been influenced by this medium during the 30 day period during which their survey was conducted."
Confirming the significant and constant growth which has occurred since 2009, the DOOH Advertising grew twice as fast as the total Brazilian advertising market during the first quarter of 2012 in comparison with the first quarter of 2011, according to data from Projeto Intermeios ("Intermedia Project").
More details about digital signage can be found in this document from the W3C, which served as the basis for this article.
---